From November to March within the Arctic Circle zone (from 65 to 72 latitude degrees for you geeks) you have a chance to see the unforgettable sky spectacle. When charged solar particles collide with Earth's atmosphere, Northern Lights are showing its beauty, giving you the chance to experience the amazing views. If it's not on your travel bucket list yet, it should be - this phenomena is worth travelling to the most remote areas of the globe just to see it.
No more delaying, let's go on the scenic journey through world's best hotels to enjoy Aurora Borealis. Just get ready for some amazing views!
Sweden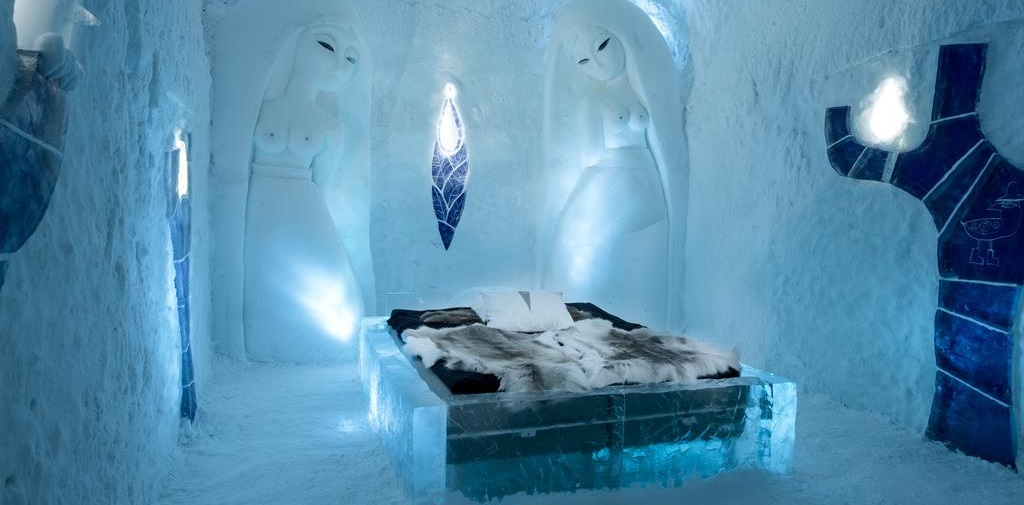 Like a stubborn snowman this unique hotel melts every summer to rise again in the winter. It is built by equally stubborn builders using ice from the nearby river and is the best place in Sweden to watch Northern Lights!
To get here: fly to Kiruna and drive 15min - flights from Stockholm to Kiruna

What about remote lodge located right on the bank of the Saarijarvi Lake? This one has a bar with huge bear in it and many adventure options like dog sledging, horse-riding and snowmobile safaris.
To get here: arrange a transfer from the airport directly with hotel
Finland

If you want to observe Aurora Borealis, you should consider Instead of standing in arctic temperatures you can watch here directly from your comfy bed in igloo that is made from glass. There is no more convenient way to see it!
To get here: fly to Kittila and drive 2,5h - flights from Stockholm to Kittila

Levin Inglut is all about the Northern Lights! You will stay in igloo made from glass, and sleep on the motorized bed, so you can adjust it for a perfect view. Each igloo has electrically heated non-fogging glass, air conditioning, a small kitchen, shower and toilet and Wi-Fi connection. You do not even need to leave it if you want to!
To get here: fly to Kittila and drive 15min - flights from Stockholm to Kittila

Here not only you get unique glass igloo to observe Aurora Borealis from, but also Santa's Village with its all attractions! Igloos are located very close to Rovaniemi airport, so your kids will take this journey easily.
To get here: take a bus or taxi from Rovaniemi Airport (10min)

These igloos belong to one of the best looking and most elegant. Naturally there is glass roof, motorized bed and many adventures available.
To get here: drive 20 min from Rovaniemi airport or arrange a transfer with hotel
Norway

This place is a one big adventure that will be remembered for long. Whole hotel is made from snow and has 20 individually decorated chambers. You can order husky airport transfer, stay at the ice bar or warm up in the sauna.
To get here: fly to Kirkeness from Oslo - Check flight prices to Kirkeness. Arrange husky airport transfer!

Glass igloos are becoming more and more popular. And no wonder - it's best way to see Northern Lights! Inside your comfy igloo you'll have unobstructed views of the Aurora. Did we mention that the bed is motorized so you can adjust it for the best views? Just perfect.
To get here: fly to Tromso and drive for 1 hour. Or arrange pick up from the airport with the hotel.

This one is a real treat specially for adventure seekers, who during the day will find plenty of things to do. And there is frozen waterfall waiting to be climbed just 20 min from the hotel.
To get here: Fly to Tromso and drive 1,5h.

Fly to Svalbard, check-in into Mary Ann's Polarig and you'll have a chance to experience small-town life, and sleep in one of the three buildings: mining, luxury or transportation rigs. The best thing about whis unique hotel is the Winter Garden restaurant, where you can see how tropics meets the artctic. Here you can observe Northern Lights or midnight sun right from your table!
To get here: fly to Svalbard - flights from Oslo to Svalbard

Placed in the remote area, 60 from the nearest village this is in fact one of the most unusual places to stay in Norway. And one of the best places to observe Aurora Borealis. You can also try some dog sledging and polar bear watching while here! Once-in-a-lifetime experience!
To get here: fly to Svalbard - flights from Oslo to Svalbard

Thanks to the Sven Engholm who is the host of this place you get a chance to stay in a traditional wooden cabin, where almost everything was carved from wood (including cups!) And thanks to the 50 husky dogs you'll have a chance to drive your own sledge through wilderness before observing Northern Lights!
To get here: fly to Alta and drive 2,5h - flights from Oslo to Alta

Alta River Valley in Norway is known to be one of the top places in the world to observe dazling Northern Lights. That's why every year new igloo hotel is built which hosts also scientists researching this phenomen. And frankly its rooms are as beautiful as Aurora Borealis!
To get here: fly to Alta and drive 0,5h - flights from Oslo to Alta
Canada

It's remote, it's comfortable and it hosted Prince William and Princess Katherine! Meet unique lodge Blanchford Lake, where you can experience Canadian wilderness at its best. And by every means available as this place offers offers snowmobiling, snowshoeing, kayaking, boating or admiring Aurora Borealis.
Iceland

If you like adventure and think about something more than observing Northern Lights, like trekking across glaciers or exploring lava fields, we have a perfect hotel for you! It's located one hour drive from Reykjavik, but this unique hotel is also built on stilts and surrounded by natural hot springs.
To get here: fly to Reykjavik and drive 1,5h. Hotel can arrange airport transfer.

Placed within minutes from Thingvellir National Park this unique hotel is designed warm Icelandic style. It is located in the remote area with stunning views and has a very night restaurant. Northern Lights are best to be enjoyed from the jacuzzi placed in front of the hotel!
To get here: fly to Reykjavik and drive 1,5h

It is the only 4 star resort in Southern Iceland. Located about an hour drive from Reykjavík - far enough to not have a sky polluted by lights. Expect many atractions: snow mobiles, excursions, horseriding - all that right in middle of beautiful panoramic scenery.
To get here: fly to Reykjavik and drive 1h
Greenland

Not only you'll see here Northern Lights but also majestic views overlooking the impressive Disko Bay with floating icebergs. And during the day you can enjoy cruises, dog-sledding and seal spotting. One of the best in Greenland!
To get here: fly to Illulisat - flights from London to Illulisat